Academic and Vocational Guidance Point Punto de Orientación Académica y Profesional (POAP)
The Academic and Vocational Guidance Point of the Education (acronym in Spanish POAP) and University Department and the Labour, Trade and Industry Department of the Balearic Islands is a service created to support, guide and solve questions about the integrated system of qualifications and VET.
POAP is managed by technicians of the Directorate General of VET and Teachers' Training and technicians of the Employment Service of the Balearic Islands (SOIB). This initiative, which links both sectors, is the first one to put together professionals from Labour and Education in the same service, representing the first example of the creation of an integrated guidance system.
Its aim is to inform and guide about VET offer, the SOIB professional certifications, as well as about the possibility to certify the working experience through the Institute of Professional Qualifications of the Balearic Islands.
It is mainly focused on people who abandoned the educational system and want to complete their education, returning the educational system or carrying out the SOIB training courses. It is also available for students who are preparing their itinerary after the Compulsory Secondary Education or workers' upskilling. It is also a reference for the guidance departments of the educational centres, the SOIB guidance services and other services, which are committed to the academic and professional guidance related to the VET integrated system. In this way, it can offer information and guidance in a more complete way to persons interested in improving their education and professional qualifications.
 To achieve its aim, POAP develops individual and group actions:
-Individual actions: Queries in the SOIB offices (face to face, on the phone, by email…).
-Group actions:
Sessions in the educational centres for students in the second cycle of Secondary Education, Baccalaureate or Initial Vocational Training.
Informative sessions in the municipalities.
The priorities addressed with this program are:
-  encourage the lifelong acquisition of career management skills
-  facilitate access by all citizens to guidance services
-  develop quality assurance in guidance provision
-  encourage coordination and cooperation among the various regional and local stakeholders
The results show how the consultations have largely increased from the beginning of the program.
- Results:  1,230 consultations in 2015-2016
- 15,473 consultations from 2016 to 2018
---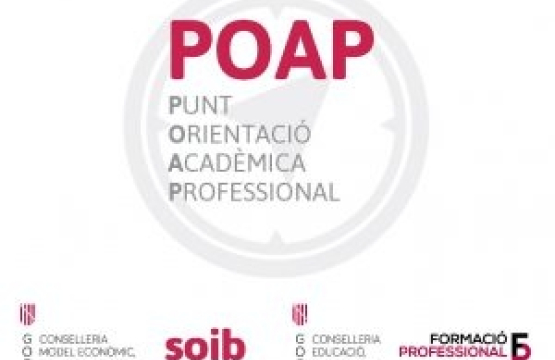 Author / Originator:

Catalina Ramís Crespí and Coloma Ribot Binimelis (Balearic Islands, Spain)

Country of origin Spain
Resource launch date September 01, 2015
Main focus Access to Guidance Services
Modality Presential
Context Schools, Higher Education, Youth Work
Type Intervention
Target group Secondary School Students, Post-Secondary School Students, VET Students, University Students
This practice developed through Erasmus+ No