euroSkills 2021 - European Championship for Young Professionals
euroSkills 2021 - European Championship for Young Professionals
EuroSkills is a vocational skills competition which is staged as a European championship every two years. The focus is on the outstanding achievements of young, talented and skilled professionals up to 25 years (for EuroSkills 2021: 26 years) in about 45 European occupations. Around 450 active participants compete in vocational categories from the industrial, craft and service sectors.
The competition itself consists of 6 different professional categories and about 45 professions. Each profession is given its own competition area where the young professionals can show their talent.
EuroSkills 2021 is accompanied by a specialist programme. Various regional, national and European event formats – conferences, meetings, seminars, sessions, lectures and partner programme contributions – will illuminate the core topic "FUTURE OF SKILLS" from different perspectives.
On the first day of the competition, the official EUROSKILLS 2021 CONFERENCE will take place as a congress at a European level. The EUROSKILLS 2021 CONFERENCE is aiming to provide a unique platform for bi- and multilateral networking, mutual exchange and knowledge transfer on the topic "FUTURE OF SKILLS".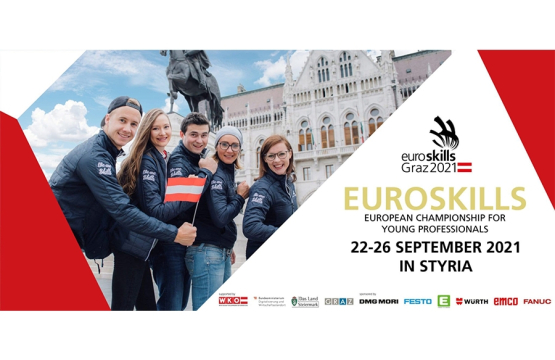 Event date September 22 - 26, 2021
Venue Graz, Austria
Organiser EuroSkills 2020 GmbH
Event cost Conference Ticket: EUR 350,00 excl. VAT (Refund guarantee for safe bookings), Live Stream Conference Ticket: EUR 90,00 excl. VAT
Event website https://euroskills2021.com/en/