Guidance for Sustainable Development Webinar (in French)
Guidance for sustainable development Webconference
The French-speaking Euroguidance group, which brings together representatives from Belgium, Luxembourg and France, has produced a publication on guidance in the context of ecological transition, entitled "Guidance in a Sustainable World".
The publication presents the changing nature of careers and the position of guidance professionals in this context. It also illustrates new practices, provides resources for professionals and suggests possibilities in support of this change.
The publication will be posted online on the Euroguidance website, under Resources, in both French and English.
A webinar(in French only) will launch this new publication on Friday 13 October from 2pm to 3pm (CET): Click here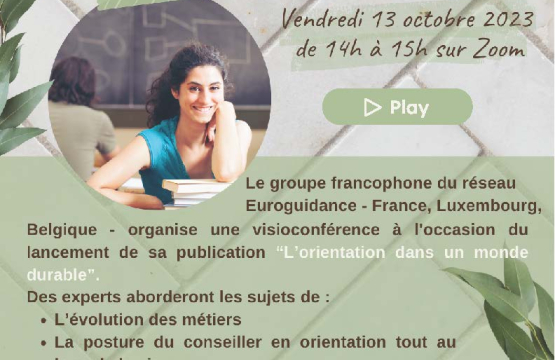 Event date October 13 - 13, 2023
Venue Online
Organiser Euroguidance French Speaking working group