IAEVG-Euroguidance Webinar: Inclusive Societies Investing in their People
In conjunction with the 2019 annual conference, the IAEVG Board of Directors released a Communiqué to emphasize the importance of inclusive societies investing in their people. Given current economic and political trends, and the uncertainties posed by fluctuations in global labour markets, there is high risk that social inequities and exclusion will increase for access and mobility in education and employment. Educational and vocational guidance practitioners have key roles to play as part of multifaceted solutions in local, national, and international contexts.
We invite IAEVG members to join us in a webinar to critically examine the content of the Communiqué, and to discuss individual and collective actions that could make a difference through investing in people. Join four international colleagues who will share their perspectives and set the stage for local discussions of next steps to implement actions in response to the Communiqué.

Moderator:
Professor Nancy Arthur, Dean: Research & Innovation, Division of Education, Arts and Social Sciences University of South Australia, Former IAEVG Vice-President and Board member
Panelists:
Dr. Deirdre Hughes, Director, DMH & Associates Ltd; Co-Editor,
British Journal of Guidance and Counselling - International Symposium Series
Tomáš Šprlák, Service manager of Counseling in professional development (CEP) at CIBC Meurthe et Moselle, President of the Slovak Association for Career Guidance and Career Development
Dr. Mary McMahon, Honorary Associate Professor, School of Education, The University of Queensland, IAEVG Board Member
Date: April 15, 2020
Time: 8:00 a.m. – 9:00 a.m. (GMT)
This webinar is jointly sponsored by the International Association for Educational and Vocational Guidance (IAEVG) and Euroguidance network and the participation is free of charge for participants. Please register HERE for the webinar until 10th April 2020, 11:00 AM (GMT).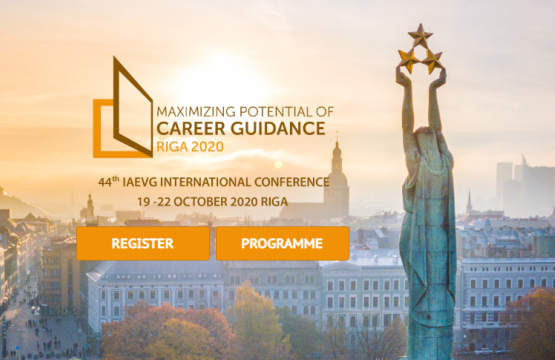 Event date April 15 - 15, 2020
Registration deadline 2020-04-10
Venue Online
Organiser IAEVG and Euroguidance network
Event cost free