Start Strong
Andris Arhomkins was awarded a national career guidance award for his contributions in 2019 in the area of careers education. Andris Arhomkins has conducted numerous career support events for young people and teachers of secondary schools.
The career development programme "Start Strong" provides students and educators from EU and non-EU countries with a wide range of career building activities such as workshops, seminars, conferences, coaching sessions, student contests, boot camps etc. In 2019 "Start Strong" trainers delivered more than 200 interactive career building workshops for high school students and educators in Latvia, Lithuania, Estonia and Belarus. The workshops were highly successful and showed an ever growing demand. These career activities were widely attended not only by youth, but also by educators, parents and local people of all ages who were either unemployed or wished to change their career and find a new job.
In autumn of 2019 "Start Strong" organized an international career development conference for educators called "Heartbeat of Career". The Conference involved teachers and career counsellors from seven countries including Latvia, Lithuania, Estonia, Turkey, Poland, Ukraine, and Belarus. During the conference participants were introduced to the "Start Strong" career development methodology and they became certified trainers of this programme. After the conference participants continue to implement "Start Strong" methods in their countries.
Another successful initiative of "Start Strong" is an annual international entrepreneurship contest for high-school students called "Start Strong 3+3". Approximately one thousand students from Baltic states apply for this contest each year and compete for the main prize- a trip to the USA. The contest lasts for 7 months. From October till April students go through intensive hands-on entrepreneurship training as well as create their own student companies, sell products, work on various community projects and voluntary work activities. At the end of the contest the winners from each country are awarded with the grand prix- trip to the USA and participation at the week-long youth camp hosted by the University of Washington in Seattle. After the trip students return to their home countries and start to work on various community projects.
---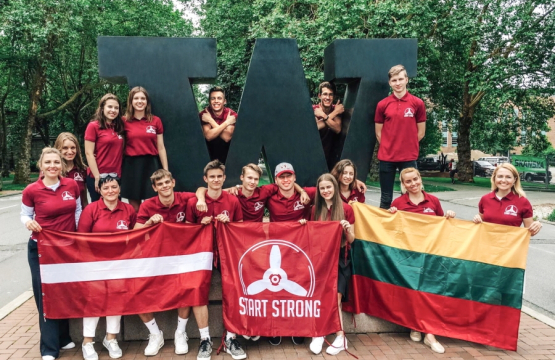 Author / Originator:

Andris Arhomkins

Country of origin Latvia
Resource launch date March 24, 2021
Main focus Mobility, Career Development
Modality Remote, Presential
Context Schools, Higher Education, Adult education
Type Intervention
Target group Career Guidance Practitioners, Teachers, Secondary School Students, Post-Secondary School Students, VET Students, University Students, Parents
This practice developed through Erasmus+ Yes
KA1 Mobility projects
Website https://startstrong.eu/en