Online Career Guidance Day for grades 1 to 11
While working under digital arrangements, the career counselling working group of the Heves County Educational Service (Hungary) prepared a collection of exercises for children in grades 1 to 11 to be used for implementing an Online Career Guidance Day. Our primary goal was to help implement an Online Career Guidance Day that expands the career knowledge and self-awareness of schoolchildren through games and online exercises whilst enabling them to learn while playing. However, the exercises can also be used independently, inserted into subject curricula as well as applied or adapted as part of the work of class teachers.
The exercises were designed by taking account of the development areas highlighted by the National Core Curriculum and the specific features of the age groups:
Materials for grades 1 to 3 were made with voice-over to help children that have a little harder time reading.
For grades 4 to 8, we prepared a series of more complex exercises and escape-room games.
For grades 9 to 11, materials contained information on vocational training and higher education studies after graduation and self-awareness and career-knowledge components, of course, complemented by online games and links.
Exercises can be reviewed in 30 minutes; however, it requires approximately 4x45 minutes to do the games and additional (offline) exercises available at the online links, resulting in an "exercise" covering an entire career guidance day. It is possible to stop during each exercise and insert breaks so that schoolchildren do not need to do them all at once.
Exercises were forwarded to teachers in the form of three types of links:
Link to the exercise: presentations are displayed as slideshows, with live links within the games.
Teaching aid on the exercise in pdf format: the entire exercise is in pdf format, enabling the teacher to see the structure, process and length of the exercise. It also has working links, but the slideshow has no audio or animation.
Printable exercise sheet which is an abridged version of the game available at the link: Approx. 4-page abridged version of each game/exercise as an exercise sheet. These are made for schoolchildren who have no access to the material in digital form so they can work on them using pen and paper. Each exercise sheet includes a key at the end.
---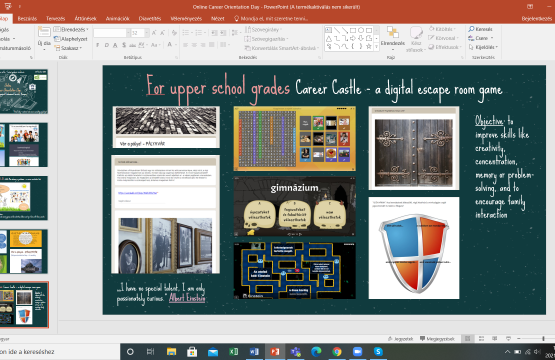 Author / Originator:

Mrs Gyorgyi Tajtine-Leso, Heves County Pedagogical Service

Country of origin Hungary
Resource launch date March 26, 2021
Main focus Career Development
Modality Remote
Context Schools
Type Tool
Target group Career Guidance Practitioners, Teachers, Primary School Students, Secondary School Students
This practice developed through Erasmus+ No