Transformika Coaching Cards
 Transformika Coaching Cards is a two-times European award-winning career orientation tool. It is based on innovative coaching methodology that is intended to enhance career development through a holistic and personalized support to the individual and the expert. It is a ready-to-use, simple and efficient tool that is based on a great amount of knowledge and know-how in the field of applied psychology. Check the detailed info at: www.learn-to-inspire.com
 The tool addresses the need for a new approach in career and life orientation that is in line with expectations of the new generations entering the labor market in an unparalleled complexity and fast changing life conditions. This new approach includes empowering guidance and game-like model packed into a simple and flexible tool with the aim of successfully including young people and women in the social life and labor market.
 Transformika Coaching Cards set includes:
32 Life & Professional Topics
300+ Powerful questions
2 Creativity Cards (Jokers)
60 Positive Affirmations
Instructions
 The tool can be used: individually; with a mentor, councilor, colleague, or a friend; in a team or group of interests. Get your pdf on how-to use ideas!
 The tool is long-term oriented and it can be reused on a daily base and it ensures not only labor inclusion but also a retention (when our target agents have clarity and a higher understanding about themselves, then they can pursue a job that is suitable for them and also a job where they are willing to stick to). Transformika Coaching Cards tool is applicable for a broad variety of target groups at all levels and relevant for any sector and industry. The content is specifically developed to empower the users to find their own answers, it helps them finding their strengths, desires and abilities to get included in the labor market. It also helps improve self-confidence, reveal possibilities and increase their motivation to not only get a job to survive but a job that will brings them satisfaction.
 Check more on our tools here: www.learn-to-inspire.com
---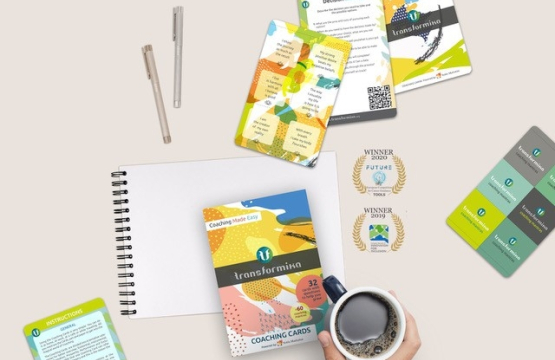 Author / Originator:

Iana Avramova | Learn-To-Inspire

Country of origin Bulgaria
Resource launch date April 19, 2021
Main focus Career Development
Modality Remote, Presential
Context Schools, Higher Education, Adult education, Youth Work
Type Tool
Target group Career Guidance Practitioners, Teachers, University Students, Parents, The tool can be used: individually; with a mentor, counsellor, colleague, or a friend; in a team or group of interests.
This practice developed through Erasmus+ No
Website www.learn-to-inspire.com