Welcome to the university!
Welcome to the university! (Välkommen till högskolan!) is a set of teaching material for teachers and guidance practitioners in compulsory school and for those who work to broaden participation in, and provide information about, studying at a university.
The Swedish Council for Higher Education seeks to broaden participation in higher education. Swedish universities have worked with this for many years. Nevertheless, it is still much more common that:
children of highly educated parents choose university studies;
the study subjects students choose differ based on their background; and
gender-specific study choices are still common.
To counteract this, the idea of higher education must be raised early on in compulsory schooling. A key aspect of this is de-mystifying the higher education system, so that those who have the ability to study at higher education level are not prevented from doing so by irrelevant factors.
The UHR has therefore produced pedagogical lesson material in collaboration with a head teacher from Botkyrka municipality, Jorjet Barelias, and a researcher and senior lecturer at Malmö University, Frida Wikstrand. The material is intended to be used in primary school, grades three to six (age 9 - 12) during a lesson. The purpose is to inform all pupils about higher education.
The material consists of a short, animated film, an accompanying lesson guide and exercises. The lesson can be given by a guidance counsellor or by a teacher. Guidance councellors within the university can ask primary schools to complete the lesson before a visit to the university, or before staff or students from the university visit the schools.
---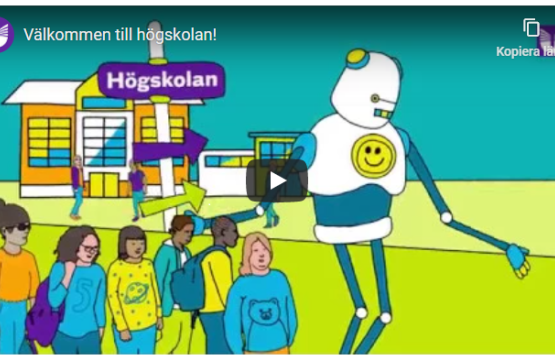 Author / Originator:

Universitets- och högskolerådet, UHR (Swedish Council for Higher Education)

Country of origin Sweden
Resource launch date March 24, 2021
Main focus Career Development
Modality Remote, Presential
Context Schools, Higher Education, Adult education
Type Intervention
Target group Career Guidance Practitioners, Teachers, Primary School Students, VET Students
This practice developed through Erasmus+ No