#yrkesjakten - "occupation hunt"
Through "Yrkesjakten", the Swedish Public Employment Service has produced virtual work films, so-called VR videos (Virtual Reality). The films will help young people to get an idea of different professions and their work routines.
Today, many young people find it difficult to choose which profession to study for. The Swedish PES has for a long time worked to get young people out into the workplaces, to make it easier for them to form an opinion about certain professions. Today, many companies only accept 2-4 study visits per year, which makes it difficult to meet the large demands. Yrkesjakten opens up for VR study visits in an easily accessible way. Around the clock, through a mobile, the students can visit the various companies and get an idea of ​​the different professions. In this way PES hopes to increase the interest in the labour market, and in that way reduce dropouts.
Through a 360 camera, the PES has filmed VR study visits to various workplaces, such as welder, firefighter, ambulance driver, primary school teacher and many more.
To be able to experience the profession in VR – students need:
a mobile phone (which all of them already have)
a pair of VR glasses (available for purchase at a very low cost in many different stores)
The next step is to place the mobile into the VR glasses, select a movie and click on the VR icon and get started.
There has been a growing interest in VR study visits among schools around the country, and more and more schools are ordering VR glasses in order to increase the labour market knowledge among their students for guidance purposes. During the pandemic, the requests have increased as practical training for secondary school students have been withdrawn. Today there are several hundred thousand views, which shows that the tool is used widely around Sweden.
Yrkesjakten is one of the items on offer at the Public employment office website page "utbildningsmaterial" (educational material). More information in Swedish you can find here 
---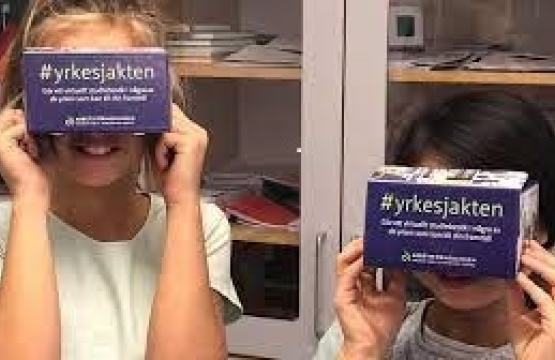 Author / Originator:

Swedish Public Employment Service

Country of origin Sweden
Resource launch date March 24, 2021
Main focus Career Development
Modality Remote
Context Schools
Type Tool
Target group Career Guidance Practitioners, Teachers, Primary School Students, Secondary School Students, VET Students
This practice developed through Erasmus+ No