My life after school
The web application "My life after school" is a new online tool, which provides primary and secondary schools pupils in the Moravian-Silesian Region in the Czech Republic basic information about jobs/professes and also basic information about living costs. Pupils can find there for example information about the job description, earnings, employment, suitable education in our region. During the second part of the application, they will get to know with prices of living, food, transport and rest of costs like holidays, culture and so on. Through this app, pupils get to know the relationship between incomes and costs in life and they can try their ability to manage with money.
The target group is not only pupils but also teachers and career counsellors who can use the source of current information from the labour market. The web application is a ready tool for making teaching more attractive and the possible outcome of career counselling. The application is free and includes working papers that can be used as a basis for working with this tool.
The initiative is a part of Moravian-Silesian Employment Pact services provided to schools, companies and individuals in the Region. The organization also conducts labour market analyses, surveys and forecasts, supports the introduction of innovative new systems for the labour market, offers methodological support for vocational training, coordinates cooperation between schools and companies, helps organize career advisory services, and contributes to the development of strategic processes and networks of services for the labour market.
---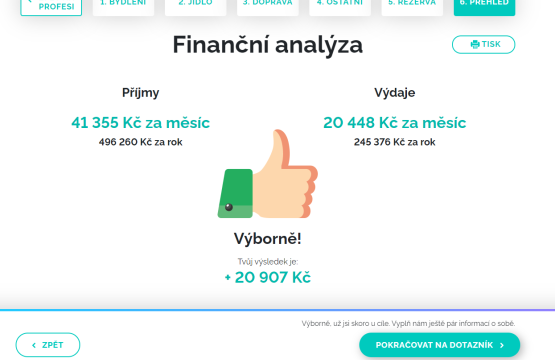 Author / Originator:

Katernina Tvrda / MS PAKT

Country of origin Czech Republic
Resource launch date March 15, 2021
Main focus Career Development
Modality Remote
Context Schools, Employment (PES)
Type Tool
Target group Career Guidance Practitioners, Teachers, Primary School Students, Secondary School Students
This practice developed through Erasmus+ No
Website https://www.mujzivotposkole.cz/