Compendium of the Cross Border Seminar Dresden 2023 is published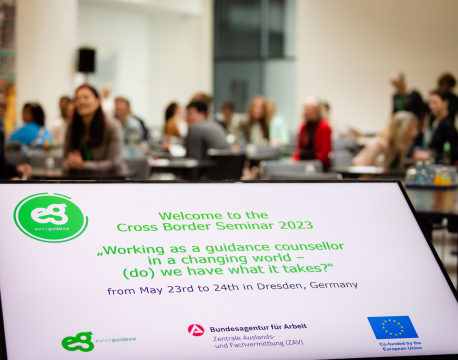 More than 80 guidance counsellors and guidance experts from Europe met under the motto "Working as a guidance counsellor in a changing world - (do) we have what it takes? in Dresden from 23.05. - 24.05.2023 to learn from each other and exchange many new ideas and good examples from guidance practice in their countries. We have already reported on this.
We are delighted that the documentation with the results of the Cross Border Seminar 2023 is now available.
In a compendium, we have summarised the content and insights gained during the seminar in plenary sessions and in the various workshops in short articles so that not only the seminar participants, but even more interested parties can learn from them.
In addition, National surveys on the topic of the seminar were conducted in the participating countries in the run-up to the event and published in a separate brochure. The National surveys show in particular which strategies and further training courses for counsellors have been developed and are currently being offered in the participating countries and contain good examples from counselling practice.
Both publications are now available on the Euroguidance website https://euroguidance.eu/resources/publications/cross-border-seminar-compendia
The full documentation with a short video clip and photos of the seminar has been published by Euroguidance Germany on its website CBS Seminar 2023