Erasmus Days:Building Capacities for Schools in North Macedonia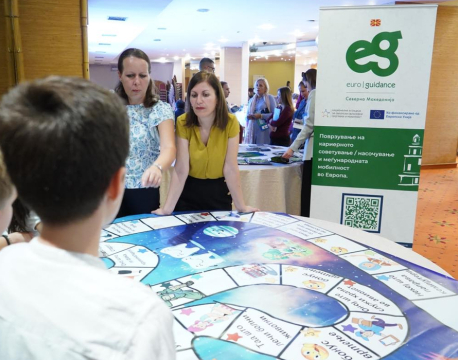 The National Agency for European Educational Programs and Mobility from North Macedonia recently hostedthe Erasmus Daysevent "Building capacities for schools". It wasan educational event that brought together 50 schools from North Macedonia for three days of collaborative workshops aimed at advancing knowledge and fostering cooperation within the framework of inclusive and green policies.
This event marks a significant milestone in the pursuit of enhancing education in our country, with a strong focus on preparing our students for the challenges of the future.
As an integral part of the National Agency, the Euroguidance Center played a significant role in supporting the Promotion of Good Practices section. At the heart of Euroguidance's involvement was a vocational education and training fair where each participating school had the opportunity to set up its stand to showcase its experiences and connect with other schools and students.
Euroguidance, the European network of guidance centers, offers expert information and advice on opportunities for lifelong learning and career development across Europe. At Erasmus Days 2023, Euroguidance emphasized its commitment to guiding students and educators toward the best practices and opportunities in education, training, and mobility.
The vocational education and training fair provided a platform for schools to share their successful projects, innovative ideas, and experiences in the Erasmus+ programme, highlighting the transformative impact of international mobility and cooperation.
Moreover, the French Institute in Skopje took the opportunity to promote various opportunities for Macedonian schools, further expanding the horizons of educational collaboration beyond our borders. The event served as a reminder of the importance of international partnerships and the benefits of participating in programmes like Erasmus+.
"Erasmus Days 2023" undoubtedly strengthened the foundation for cooperation and knowledge exchange among schools in our country. Euroguidance's role in supporting and promoting best practices in education was vital in making this event a resounding success. As we move forward, we hope to see even greater advancements in education, and we eagerly anticipate the positive impact this initiative will have on the preparation of our students for a brighter future.