Euroguidance North Macedonia Encourages Youth to Develop Skills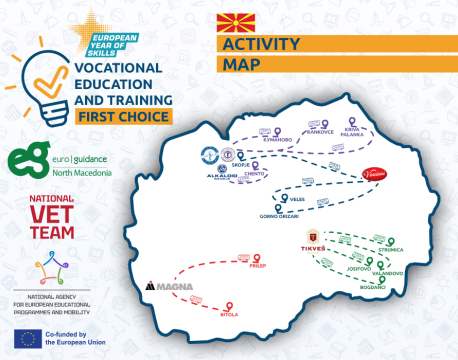 As part of the European Year of Skills 2023, the National Agency for European Educational Programmes and Mobility (Euroguidance Center North Macedonia) recently launched a campaign aimed at promoting education and vocational skills among young people in the country.
The campaign, titled "Developing skills as the first choice of young people", saw the participation of students from elementary schools across North Macedonia. The Euroguidance Center encouraged students to prioritize their education and skills development, highlighting the importance of lifelong learning and the numerous opportunities available through the Erasmus+ programme.
In recent years, there has been a growing emphasis on vocational education and training to reduce youth unemployment rates and address skills shortages in various industries. The Euroguidance Center's campaign aimed to raise awareness among young people about the benefits of vocational education and the numerous opportunities that exist in this area.
The Euroguidance Center is committed to implementing European priorities and highlighting the opportunities available to young people through the Erasmus+ programme. This programme offers opportunities for students and young professionals to study, train or gain work experience abroad, providing them with valuable skills and experiences they can use throughout their careers.
The campaign was received positively by the participating schools and students, who expressed their enthusiasm for developing their skills and taking advantage of the opportunities available through the Erasmus+ programme. The Euroguidance Center hopes that this campaign will inspire more young people to pursue vocational education and training, and to take advantage of the many opportunities available to them both in North Macedonia and across Europe.