International Webinar on Future Skills – 22 November, 2023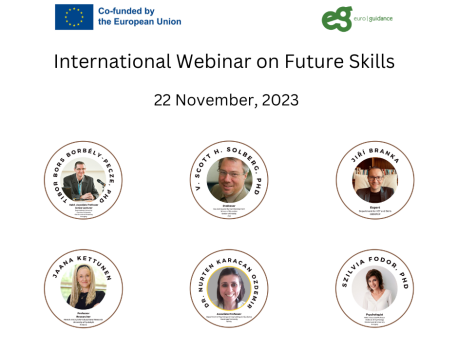 On November 22, 2023, the Euroguidance Hungary Center will organize an international webinar on the skills of the future. The webinar will be held in English.
Nationally and internationally renowned professionals were invited to bring current, interesting and thought-provoking topics to career guidance and career counseling professionals regarding the utilization and development of skills.
During the first session of the two-hour event, Jiri Branka, Cedefop expert, talks about the potential uses of skills forecasting in career guidance services. Dr. Habil. Tibor Borbély-Pecze, associate professor, will address the phenomenon of deprofessionalization of professions and the future of career guidance, Jaana Kettunen, professor at the University of Jyväskylä, Finland, will give a presentation on the digital competence development of career guidance professionals.
In the second session, Dr. Szilvia Fodor, psychologist, university associate professor will speak about goal setting and future planning as foundations of career orientation, V. Scott H. Solberg, professor at Boston University, and Dr. Nurten Karacan Ozdemir, associate professor at Hacettepe University in Turkey, will discuss career skills and help you navigate in the megatrends of competencies.
The program is in English, free of charge, but registration is required.
Program and registration are published on the national website.
We welcome all interested parties to our event!