Outcomes of the Virtual Cross-Border Seminar 'Voice of the client in career guidance' released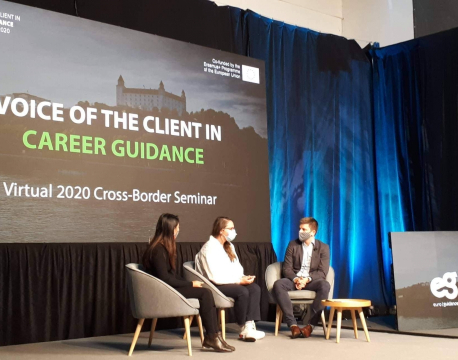 The Virtual 2020 Cross-Border Seminar 'Voice of the client in career guidance' was held on 30th September and it was attended by more than 150 career guidance practitioners and professionals from 19  European countries. The seminar was organised by the Slovak Euroguidance centre in cooperation with the Euroguidance centres from 9 different European countries: Austria, Croatia, Czechia, Germany, Hungary, Portugal, Romania, Serbia and Slovenia.
The purpose of the seminar was to examine the notion of user voice in design and delivery of career guidance services. Although this notion has become prevalent in the career guidance discourse over the last decades, it carries significant challenges with itself. Professor Ronald Sultana, the seminar's main speaker, argued that even though this concept is widely perceived as enabling, progressive and democratic, it might be also problematic when approached from wider perspective. 
The word 'voice' itself is very ambiguous as our voices and voices of our clients are fluid and multi-faceted – some of its layers emerge while others are silenced depending on the situation and context. It is often ideology, history, culture or personal experience speaking through the person. Therefore, when addressing voice of the client the context matters greatly ('Whose voice are you actually hearing?'). The context shapes narratives and the words we use which, in turn, shape our individual realities. As Prof. Sultana eloquently pointed out: 'the words we speak become the house we live in'). 
In addition, the notion of user voice is closely linked with the issues of power and reflects the main societal and political trends. This challenges the romantic or idealistic perspective of the voice of client as an instrument of emancipation and empowerment, and suggests that voices of clients might be, in fact, shaped ideologically to legitimize political actions ('coopting voice'). 
In spite of these pitfalls, the user voice entails also a great number of promises – it recognises that each client possesses insider knowledge (knowing oneself), enhances sense of advocacy, it is responsive to client's needs and respectful of alternative values, and it can be, for instance, an effective instrument when targetting the funding for career guidance services. It must be, however, embraced with caution and continuous critical reflection.
For more insights re-watch all the keynotes and workshop sessions: http://www.euroguidance.sk/cbs2020/outcomes/