Survey: COVID-19 pandemic and career guidance systems and policy development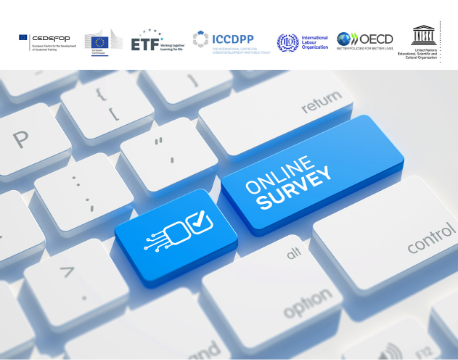 The European Centre for Development of Vocational Training (Cedefop), the European Commission, the European Training Foundation (ETF), the International Centre for Career Development and Public Policy (ICCDPP), the International Labour Organisation (ILO), the Organisation for Economic Co-operation and Development (OECD) and United Nations Educational, Scientific and Cultural Organization (UNESCO), have joined forces to undertake a survey to shed light on the current challenges of career guidance policies and practices around the world. The survey builds upon the shared commitment to support policies and systems for career guidance, and for universal access to such services.
The questionnaire is mainly designed for respondents who develop and/or monitor the implementation of career guidance policy and provision, such as national, regional and other bodies responsible for the management of career guidance services, as well as relevant private and civil society/non-governmental/third sector settings. Guidance practitioners and researchers may also respond to the questionnaire.
The Euroguidance Network would greatly appreciate your valuable time in completing this questionnaire.
If you have contacts working in guidance who you think can respond to the questions and can contribute with the type of information sought, please forward the link to these respondents.

The survey link will be open until 12 July 2020.
The responses will be used to better understand the impact of the COVID-19 pandemic and any measures taken, such as lockdown and social distancing, on the implementation of policies for career guidance in your country and worldwide. The results from the survey will inform future policies and programmes related to career guidance in your country and those of international organisations.
The questionnaire is available at the following links:
English:          https://www.surveymonkey.com/r/CareerGuidance_Survey
Spanish:         https://www.surveymonkey.com/r/CareerGuidance_Survey_ES
Vietnamese:    https://www.surveymonkey.com/r/CareerGuidance_Survey_VI
French:           https://www.surveymonkey.com/r/CareerGuidance_Survey_FR
Russian:          https://www.surveymonkey.com/r/CareerGuidance_Survey_RU
Arabic:            Under development/to be added soon
The supplementary privacy notice can be accessed HERE