Transnational seminar "Career Guidance Shaping Communities and Societies"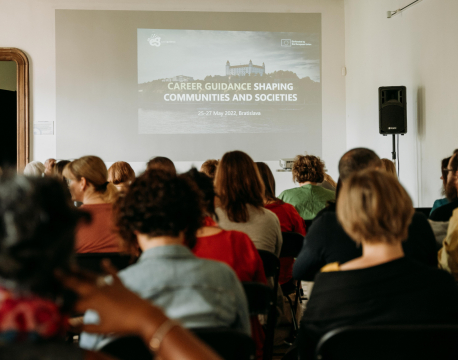 The transnational seminar 'Career Guidance Shaping Communities and Societies' was held on 25-27 May 2022 at the Pisztory Palace in Bratislava and it was attended by 40 career guidance practitioners and professionals from 14 European countries. The seminar was organised by the Slovak Euroguidance centre in cooperation with the Slovak National Agency Erasmus+.
The purpose of the seminar was to explore the social impact of career guidance and its transformative potential towards more sustainable and inclusive societies. During the seminar, we looked at how career guidance can be beneficial to various communities, how it can encourage fairness and promote social cohesion. Participants had the chance to hear insightful key notes by Ronald G. Sultana and Helena Košťálová, visit two organisations – Mareena and Profesia – which are doing some highly important work in the field, and learn about other inclusive practices in Slovakia. They also played an active role as they developed several inspiring project ideas during a group activity. Hopefully many of these ideas will turn into full-scale projects and will see the light of the day in the near future. 
In addition to the learning content, the seminar showed that the career professionals are eager to meet and re-connect with their fellow European colleagues and engage in a mutual learning after a long period during which such contacts were not possible.
All the seminar outcomes are available at: https://www.euroguidance.sk/tca/outcomes/