10 Tips for Getting Your First Job After University
For many graduates, their first job out of college is a huge step into the working world, and this is often the situation when most students would benefit from working with career counsellors. This month I had the opportunity to discuss this important topic at a workshop I organised together with my colleague Biljana Velevska at the Faculty of Architecture in Skopje titled "The career path - a key life decision". The main goal of the workshop was to help students learn the important steps that are necessary for getting their first job in the creative industry. If you are looking for your first job and follow these steps, the entire process will be much simpler.
1. Analyze Yourself
Before you start searching for a potential job, you need to do a self-assessment. Even though at first you may think this step is a trivial one because you already know everything about yourself, this is probably the most essential one on the list. To start searching for your perfect job you must evaluate your values, strengths, weaknesses, interests, traits, and ambitions to figure out what motivates you, what you're good at in your profession, and what you still need to work on to become the best version of yourself. Knowing all these things about yourself will also help you once it's time for you to start writing your CV.
2. Research Opportunities
Once you've done a complete analysis of yourself through a professional lens, you should start researching the labour market and explore different options. Do additional research on your occupation and what your future work responsibilities would look like. Explore the industry trends and different career options in your area of study.
3. Make a List of Potential Work Places
After your research, it's time to make a list of the companies you can actually imagine yourself working at. Try to be very selective and do thorough research on whether the values of the companies match your own, how you'd be able to advance your career there, and any other factors that are important to you.
4. Make a Plan
In this step you'll further narrow down the list of potential companies to only the ones which you want to apply at. If you've analyzed both yourself and the labor market thoroughly, you'll now be able to make an informed decision about where you want to apply for a job.
5. Put the Plan Into Action
Now that you've decided where you want to apply, it's time to start connecting with your potential employers. You can do this by applying for a job at their company, or talking to friends or acquaintances who work in the company so they can give you the information on how you can present yourself better when applying at the company. Create a schedule where you'll note
the date of each application as well as the date when you should get feedback.
6. Write a CV or Resume
With your list of potential places to work ready, you can now start working on the documents that you'll need for your job application. The first one is the CV, curriculum vitae, a longer format document that contains the full history of your academic credentials, work experience, skills, contact information, and a summary or objective. The resume, on the other hand, is a shorter
document, generally 1-2 pages. It is a concise format that gives precise information about your skills and qualifications for one specific position, and it mostly focuses on your years of experience in the specific profession you're applying for. Each company has different requirements as to whether you need a CV or a short summary for an application, so the one you'll need for your application will be stated in the job advertisement.
7. Create a Portfolio
The abovementioned steps are the same for all students, however, creating a portfolio is especially important for students from the creative industries, such as architecture, art, design, fashion, advertising, music, film, publishing, performing arts, TV, games, video games, software,etc. Your portfolio should display your best work either from student project or projects that you worked on for clients outside of your school projects. This gives hiring managers a summary of your creativity, skills, and abilities. Opt for a digital portfolio that anyone can access at anytime, and you can easily make changes and adjustments as your work experience increases. There are a lot of websites with templates which you can use to assemble your portfolio very fast.
8. Create a LinkedIn Profile
LinkedIn is the ultimate social media platform for people who are looking for a job, hiring, or wanting to increase their professional network. It's a great idea to create a profile on this platform especially if you're working in IT, design, or sales, as these are some of the most common professions for which you can find job advertisements on LinkedIn. Make sure that the information that you provide on LinkedIn matches your CV and your portfolio as recruiters do thorough research on all the candidates. You can have your career counsellor look at your portfolio, LinkedIn profile, and your CV and give you feedback, so you have the best chances at
getting the job.
9. Practice Your Interview Skills
If you've gotten to the interview part in your hiring process, you're one of the lucky ones, but you're still not through the finish line. The interview is generally one of the steps that most people are nervous about. To increase your chances of passing the interview, practicing for it is crucial. You can do this by practicing the answers to the most commonly posed questions at interviews either by yourself, or with the help of your career counselor.
10. Have a Plan B
If for some reason you didn't pass the interview stage, you can use this experience to figure out where you an improve for future interviews. Take another look at your CV and portfolio and make changes based on the feedback you got at your interview, because finding a job is actually a full-time job. In order to be successful and find the right one for you, you must be up to date on trends and news in your industry and constantly improve yourself. Good luck!
---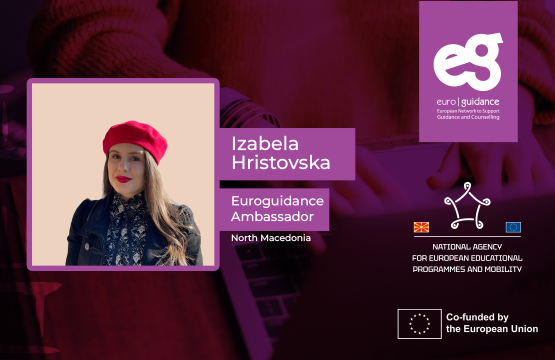 Author / Originator:

Izabela Hristovska, M.A. - Euroguidance Ambassador - North Macedonia

Country of origin North Macedonia
Resource launch date January 09, 2023
Main focus Career Development
Context Higher Education, Employment (PES), Youth Work
Type Publication
Target group University Students, Jobseekers
This practice developed through Erasmus+ No