Career Skills
The Career Skills massive open online course enables anyone from a student to an experienced professional to improve their career management competencies.
The online course is freely available in English, German, French, Finnish, Greek and Bulgarian on the Career Skills Platform  http://app.career-skills.eu/en which contains various tools and resources for the career skills development.
The Career Skills Catalogue describes 12 key career skills and offers a 3-level competency framework (basic, intermediate and advanced) that facilitates their understanding and development.
An assessment tool helps users identify their career competencies.
The 12 modules in the online training course cover different aspects of the career management: self-assessment and career planning, labour market awareness and employability, resilience, cooperation, creativity, problem-solving, etc. The exercises combine short theoretical information with a variety of practical tasks, tests, case studies, self-reflection, useful tips, creative activities and inspirational videos, articles and resources.
The platform contains also a free online Map of Career Services, where more than 420 career guidance professionals and organizations across Europe have registered. Thus, clients can find career support nearby across a number of criteria. The career providers can also use the Network section of the platform to share their projects, initiatives, events and resources.
The Career Skills project is funded by the European Commission and is aimed at both career advisors and experts, as well as people of all ages who want to update and improve their skills.
The international partnership is coordinated by the Business for Education Foundation in Bulgaria and involves the Finnish Institute for Educational Research at the University of Jyväskylä, Finland, Resau International des Cité des métiers – France, Volkshochschule im Landkreis (VHS) Cham – Germany, Institute of Entrepreneurship Development (IED) – Greece and Aspire-Igen group – the UK.
---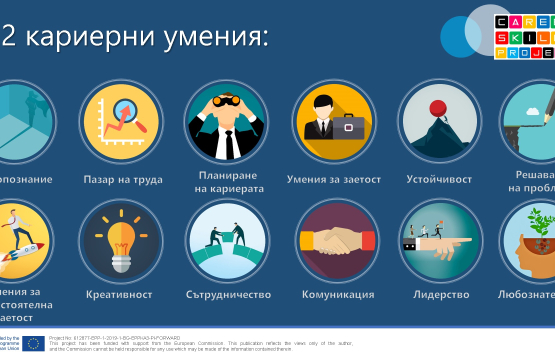 Author / Originator:

Business Foundation for Education

Country of origin Bulgaria
Resource launch date September 01, 2022
Main focus Career Development
Modality Remote, Presential
Context Schools, Higher Education, Adult education, Employment (PES), Youth Work
Type Training
Target group Career Guidance Practitioners, Teachers, VET Students, University Students, Jobseekers, Parents
This practice developed through Erasmus+ Yes
KA2
Website http://app.career-skills.eu/en