Career website to support individuals in their independent career development.
The new career website helps individuals independently shape their future, whether it is getting to know themselves better, making educational choices, or advancing their careers. The career website provides support for individuals in their independent career development.
User-friendly career pathways have been created, where individuals can choose their role and career-related questions to access the specific information they need.
Within the career pathways, various information sources, interactive tools, tests, and more have been consolidated.
Additionally, the new career website includes a toolbox for career specialists and teachers, where materials supporting their work are gathered online.
Parents can find recommendations and advice on the website on how to help shape their child's career path, along with a comprehensive guidebook called "Guide for Parents" that includes exercises.
In the future, the new career portal will be continuously updated with various new interactive solutions, and additional languages (English and Russian) will be added.
---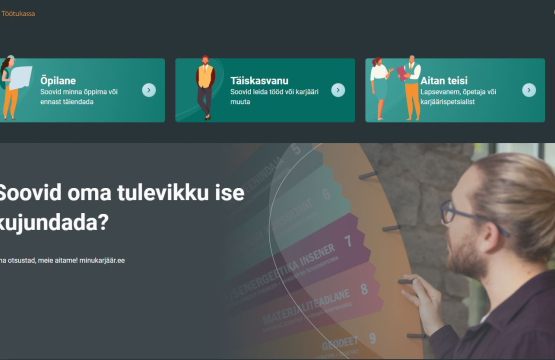 Author / Originator:

Estonian Unemployment Insurance Fund

Country of origin Estonia
Resource launch date February 01, 2023
Main focus Career Development
Modality Remote
Context Schools, Higher Education, Adult education, Employment (PES), Youth Work
Type Tool
Target group Career Guidance Practitioners, Teachers, Primary School Students, Secondary School Students, Post-Secondary School Students, VET Students, University Students, Jobseekers, Parents
This practice developed through Erasmus+ No
Website https://minukarjaar.ee/et