CatchYourJob - App
" CatchYourJob " is an app developed by "in.come",  an association for the integration of people with disadvantages in cooperation with the digitization fund of the AK (Viennese Chamber of Labor).
This interactive, game-based app supports young people between the ages of 14 and 19 on their path from school to the world of work. The young people are actively involved and learn in a wide variety of scenarios which steps are important in order to make the right decisions in the career search process. The consequences of their decision are then broken down and shown. This should motivate the young people to deal with the topic of training and learn what the individual stages towards an apprenticeship look like and what needs to be taken into account. 
The app can be used by both individuals and organizations as a free tool in their work with young people. It works on mobile devices as well as on computers.
Try it out right now (in German): https://www.catchyourjob.at
---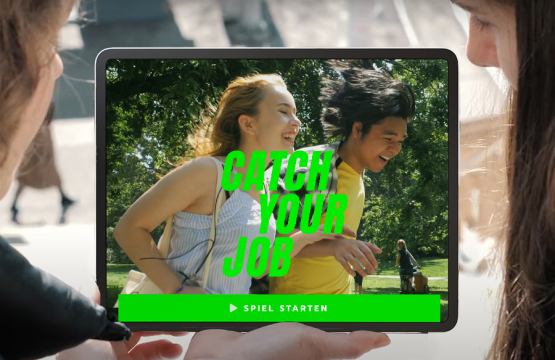 Author / Originator:

in.come der – Verein zur Integration von Menschen mit Benachteiligungen (Vienna)

Country of origin Austria
Resource launch date April 04, 2023
Main focus Career Development, Access to Guidance Services
Modality Remote
Context Schools, Employment (PES), Youth Work
Type Tool
Target group Secondary School Students, Post-Secondary School Students, Disadvantaged groups
This practice developed through Erasmus+ No
Website https://www.catchyourjob.at/