ConstructFest Career Fair
The ConstructFest - Career fair organised by the Technical University of Civil Engineering, Bucharest provided the opportunity for high school students to be informed about internships, participate in job presentations and company presentations, visit the university and participate in workshops regarding resume writing and how to present themselves at a job interview.
The event reunites together companies, experts in the specific fields, university students and high school students.
For one week there are presentations that allow students to have a better idea of what the field in which they will enter is all about. There are presentations made by the Career Centre, by different companies and by the university representatives. Job and internship offers are presented during these days, to which the students can apply and start the development of their career.
High school students are brought to the university location and participate to presentations of the university and to discussions with university students, to have a better idea of the environment they could have if they choose this university.
During this time students from the partner universities from EU-CONEXUS participated to the different opportunities either face to face or online.
Website (URL format)
---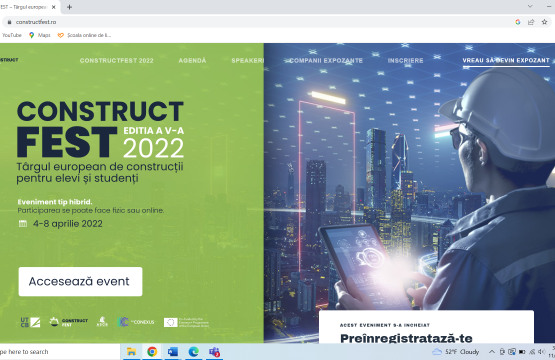 Author / Originator:

Euroguidance Romania

Country of origin Romania
Resource launch date December 14, 2022
Main focus Career Development
Modality Remote
Context Higher Education
Type
Target group University Students
This practice developed through Erasmus+ No