CURSOR a new approach to career planning
What CURSOR is about…
Youth unemployment in the EU in March 2018 stood at 15.6% or 3.6 million young people. In the partner countries participating in this project the rate varies; 22.8% in Cyprus; 16.8% in Romania; 13.8% in Poland; 12.5% in Ireland (Eurostat). Addressing youth unemployment remains one of the main priorities of the EU to ensure that young Europeans can fulfil their potential and play a full and active part in today's dynamic economy.
Career planning skills are increasingly regarded as essential skills for work and for life. In today's ever-changing labour market, it is conceivable that the average worker will change career paths on up to 7 occasions during their working life. The partners involved in the CURSOR project believe that it is time for a completely new approach to support the development of career planning skills among young people both unemployed and employed.
CURSOR will provide a completely new career planning framework where young Europeans are supported to acquire and develop the necessary skills to plan their own career progression pathway and to retain those skills for use throughout their active working life. CURSOR proposes the modernization of career planning to reflect the reality of the European employment marketplace where a change in one's career pathway can be a frequent occurrence.
To ensure that the career planning materials developed are widely used and accessible project partners will harness the full potential of digital technologies for developing, producing and presenting the career planning framework. The proposed tools and resources will be freely available to all key service providers working in the youth development and career planning fields to support the active participation of young people in the labour market and the reduction of the high rates of youth unemployment that currently pertain throughout Europe. 
CURSOR E-LEARNING PORTAL
 An e-learning portal to help you manage your career!
You can even get a certificate after finishing each step.
The CURSOR project will develop a suite of 24 career planning resources that address 4 specific themes, namely
 SELF: Understanding your personality, interests and values;
 STRENGTHS: Know how to use your talents and personal qualities;
 HORIZONS: Visualise yourself in the world of work, training and learning;
 NETWORKS: Identify who can support you finding opportunities for education and work.
This suite of training materials will comprise 12 introductory and 12 advanced resources; 3 resources per theme, per level. Each learning resource will be produced in an appropriate media-rich format to support learning in a variety of different learning environments. An assessment tool for each resource will be incorporated into its design. Each tool will be available in English, Greek, Polish and Romanian.
To support youth professionals to use these new career planning resources CURSOR partners will also develop a bespoke in-service training programme. The emphasis of this in-service training will be to ensure that youth professionals and other potential intermediaries are confident working in online and blended learning environments to support the career planning needs of young people. All career planning resources and in-service training resources will be available and accessible on a dedicated CURSOR e-learning platform.
---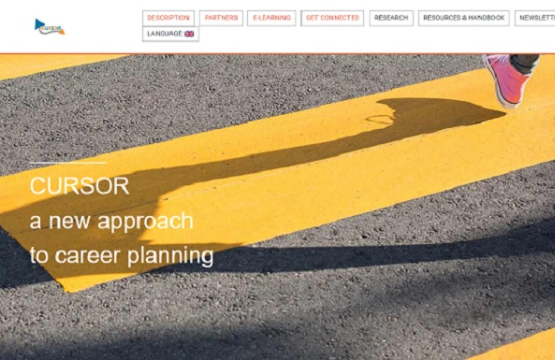 Author / Originator:

Anna Dalosi

Country of origin Cyprus
Main focus Career Development
Modality Remote
Context Schools, Employment (PES)
Type Tool
Target group Career Guidance Practitioners, Teachers, Secondary School Students, University Students, Jobseekers, Parents
This practice developed through Erasmus+ Yes
2017-3-CY-02-KA205-001117
Website https://cursorcareer.eu/