"Educational journeys are an important educational marker"
The students at FGU Midt & Østsjælland (Mid & East Zealand) are young people under 25, who are not ready to complete a youth education programme. Due to means from the EU, the students have now had the opportunity to collect academic and personal confidence abroad.
In 2021, FGU Mid & East Zealand was accredited EU's new training programme Erasmus+. Therefore, the three schools, who are associated with FGU Mid & East Zealand, are secured a part of the millions of Euros the EU allocates to educational stays abroad for Danish students and employees until 2027.
"It is important in multiple ways that FGU students also have the opportunity to travel as a part of their education. Firstly, it is an important signal to send to them. That they are also capable. Because our students want to be like other young people. Secondly, it is important because all young people would benefit from travelling and experiencing oneself as a part of something bigger. Educational journeys have always been and still are an important educational marker", says Jesper Madsen, manager at FGU Mid & East Zealand.
Confidence and the feeling of being a part of the society
He explains that many students at FGU never have felt like a part of society. Maybe because they have never been presented with them as a part of their childhood, and now when they have grown up, they do not feel invited.
One of the goals of their stays abroad is therefore also "to increase the inclusion of the FGU target group in the European community, support the possibilities  for active citizenship, and strengthen the democratic formation and society engagement of the target group".
Recently, FGU Mid & East Zealand had 15  students following fishery studies in Poland for 10 days where the students helped release fry into the wild at the Bay of Puck as a part of a research project.
"They arrive home with renewed energy and simultaneously they have trained both their personal, social, and academic competencies, which they can use in their future education and work life. The trips also help to strengthen the community between the students," says Jesper Madsen.
---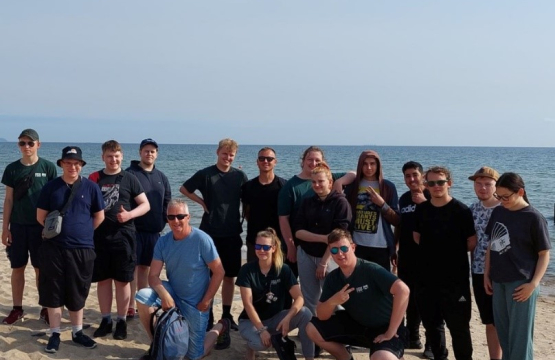 Author / Originator:

Line Frank

Country of origin Denmark
Resource launch date February 14, 2023
Main focus Mobility, Career Development, Coordination and Cooperation
Modality Remote
Context Schools, Youth Work, Community
Type Intervention
Target group Career Guidance Practitioners, Teachers, Policy-Makers, Service Managers / Heads of Organisations, VET Students, Parents, Disadvantaged groups
This practice developed through Erasmus+ Yes
KA1 Mobility