Europass and personal branding as digital tools in career guidance
Digitalization and all the new professions that are emerging are completely changing the labor market. Now more than ever, it is becoming evident that learning new skills and competencies is essential for a person to stay relevant in the labor market. What's more, knowing how to present yourself and your skills in the best light when seeking employment is becoming just as important as knowing how to do a specific job.
However, the education system does not always equip people with the right tools to go out and successfully find the right job. While schools and universities provide students with theoretical and practical knowledge about their field of studies, they do not always teach students how to present themselves and their skills in the labor market after they finish their formal education.
This is where the Europass platform and personal branding can help you differentiate yourself from other candidates who applied for the same position. So, if you would like to learn how you can start using these digital tools to improve your chances to find your dream job, keep on reading.
Career counselling and digital tools
During the process of career counselling, the career counsellor works with the client in order to help them learn new skills and abilities. These skills will enable the client to choose where to continue their education, how to find a job that is satisfying and meaningful, or even identify weaknesses that prevent them from moving up the career ladder, on their own.
Throughout the sessions, the career counsellor will use different tools in order to help the client learn more about themself, their strengths and weakness, and the opportunities in the labour market in order to decide their next career step. Digital tools are commonly used during these sessions, and below I will discuss a few that have especially proven useful in career counselling.
Curriculum Vitae
One of the basic tools for all job seekers is definitely the CV or curriculum vitae and career counsellors often discuss their client's CVs during their sessions. The CV is essentially a summary of a person's education, qualifications, skills, interests, work experience, and much more. This information is wrapped up in a single document that you send to a prospective employer in the hopes of getting a position in their company, organization, team, and so on. Depending on where you live around the world, the CV and what you write in it can look a bit different.

In Europe, it is common to write a more in-depth CV that covers the experience and education of the applicant, while in North America, applicants apply for jobs by using a shorter document that contains their career summary, and that is the resume. Anyone searching for a job in the labor market today needs to know how to write a professional CV, but not everyone actually knows how to do it right.
Europass
People who work in career counselling and career guidance know that the CV is one of the main tools that is used when a person is looking for a job. Here is where Europass, a set of online digital tools that help you create a CV and search for a job, comes into play. The main purpose of the Europass platform is to enable individuals who are looking for a job to present themselves and their abilities clearly and concisely and create their Europass profile.
On the profile page, individuals can write a personal statement, list their education and field of study, their work experience, digital skills and skills connected to their field of work, seminars and conferences they have participated in, their publications, certificates, hobbies, courses they have completed, and much more. The platform is very user-friendly and straightforward, so even a beginner can easily make a profile and start creating a CV.
The best part about thе platform is that the platform guides you through the process of filling the information for your profile with the help of questions and examples. Once the individual has listed their work experience, skills, and all relevant information, they can use this platform to create a CV, write a cover letter, and even apply for courses and jobs around Europe with their Europass profile.
What is great about this digital tool is that all your career information is located in a secure online space, so if you need to create a quick CV, you can just select the information that is relevant for the particular job from your main profile and easily generate a CV. In addition, you can save all your previous CVs and have them in one place on the platform for future use. This way it will be easy to go back and see exactly what kind of information you included in your CV when you were applying for a certain position in the past.
Personal branding
In this day and age, it is useful to have an online presence and promote your work through social media if you want to create a personal brand and catch the attention of recruiters. If the client is interested, the career counselor can advise them about how they can improve their online presence in order to get more job offers in the future. In the next paragraphs I will talk about two important digital tools that are used in personal branding and how you can use them.
LinkedIn
I cannot talk about careers and personal branding without talking about LinkedIn. This platform is used mainly for professional networking and career development and is a place where job

seekers and employers meet. The former post their CVs and write about what they are currently working on, while the latter post job advertisements and aim to find professionals to fill their open positions.
People who want to use this platform for personal branding need to remember that to have a good profile they first need to have a professional photo, a summary that explains their work experience, education, and expertise, and a list of skills they possess. And if you have a LinkedIn profile, it is very important that you update it frequently so recruiters will know what you are currently working on and what type of job they can offer you.
Personal website and digital portfolio
In some professions, LinkedIn should not be the only platform where you advertise your business or your professional skills. On the one hand, most people nowadays aim to create a website that showcases their best work and talks more about the services or products they are offering rather than the problem they're solving. If you decide to create a personal website, make sure that it conveys a strong message, has a professional design, and includes a blog where you showcase your expertise.
On the other hand, designers, digital creators, and everyone working in creative industries may also benefit from creating a personal portfolio even before they start looking for jobs. While you are creating the portfolio, make sure that you choose only the projects that you are truly proud of and have a reason why you are including those specific projects since you may be asked about them in the interview.
Conclusion
As each year goes by, more and more digital tools are being used in an attempt to simplify everyday life and get us closer to our goals. The same can be said for career counselling as the whole process works best when we incorporate digital tools that make the process easier. With the help of these digital tools and their career counsellor, the job seeker eventually starts presenting themself confidently in the labor market and getting the job that they are after.
 Keep in mind that there are a lot of other digital tools that career counsellors can use during their sessions apart from the ones mentioned above. Regardless of that, I strongly believe that the above-mentioned are the ones that will be the most useful to job seekers if they want to start presenting themselves on the labour market efficiently.
---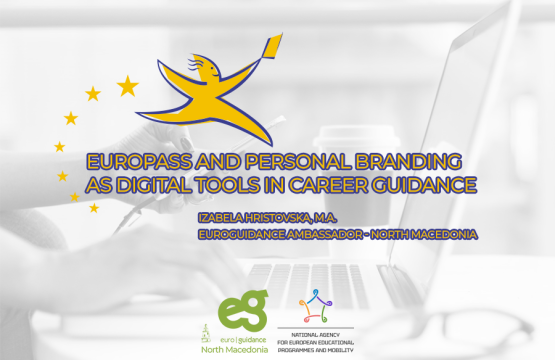 Author / Originator:

Izabela Hristovska, M.A. - Euroguidance Ambassador - North Macedonia

Country of origin North Macedonia
Resource launch date August 23, 2022
Main focus Career Development
Modality Remote
Context Schools, Higher Education, Adult education, Employment (PES), Youth Work, Community
Type Tool
Target group Career Guidance Practitioners, Teachers, Policy-Makers, Service Managers / Heads of Organisations, Primary School Students, Secondary School Students, Post-Secondary School Students, VET Students, University Students, Jobseekers, Parents, Disadvantaged groups
This practice developed through Erasmus+ No