Explore More Web portal for Secondary School students
Explore more is Career Education/Guidance tool helping students age 11 – 16 years in exploring themselves, widening career options, acquiring occupation related information and plan their education path. To make this possible the online site has various tools incorporated, including;
Quiz – The quiz taker is presented with statements describing everyday activities. One has to indicate his/her level of agreement to the statement on a scale and an in-built system prepares a report.  The report suggests the individual's learning style, motivations and suitable work environments.
Occupational / Educational path information – the information is organised by Sectors (Education, Social support, Sports, Transport, Construction, Engineering, Science, Art and Beauty, Media, ICT, Business, Finance and Retail, Tourism and Catering, Law and Security) incorporates: videos of professionals describing their daily work schedule, a short description of the occupation, required/preferred subjects to be studied at Secondary School level, and possible education paths.
The sections Subjects, My Journey, Parents include handy resources to help students choosing optional subjects at year 8. These include a booklet and several videos explaining the content of the various subjects offered.
During the Personal Social Career Development lessons teachers use the website to educate students in making the best use of career information. Career Guidance practitioners use the website during one to one sessions to teach the skills for an individual to navigate through a career. 
Explore more brings together career information with different search options to suit the individual's needs. It is presented in different modalities to enhance accessibility.
The tool is mainly used during two transitions in compulsory education. The first is a move from Middle school to Secondary school. At this point students need to select two new subjects. The second is the transition between Compulsory Education to Post-Secondary Education. This entails students choosing academic subjects to study at a higher level one of the local academic or vocational institutions.
The information is vetted yearly and updated to include new training opportunities. Information about new occupations is included to reflect the evolving labour market.
The tool is mainly accessed by students between 11-16 years of age, their parents/guardians, teachers and career guidance practitioners. The website can be assessed in English and Maltese languages.
The website can be accessed on http://exploremoreproject.en/eu/  
---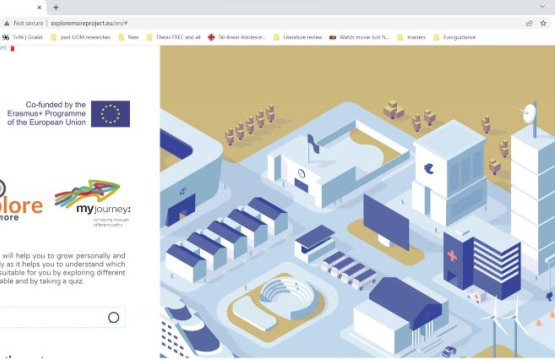 Author / Originator:

Ivan Fenech

Country of origin Malta
Resource launch date March 24, 2023
Main focus Career Development, Access to Guidance Services
Modality Remote
Context Schools, Youth Work
Type Tool
Target group Career Guidance Practitioners, Teachers, Primary School Students, Secondary School Students, Post-Secondary School Students, VET Students, Parents, Disadvantaged groups
This practice developed through Erasmus+ No
Website http://exploremoreproject.eu/en/