FRAMEWORK | CAREER GUIDANCE FOR YOUNG PEOPLE
FRAMEWORK CAREER GUIDANCE FOR YOUNG PEOPLE
A guideline for career professionals for the design and implementation of career guidance policy at educational institutions.
The present framework is a service document for careers professionals that offers guidelines for shaping and implementing career education and guidance policy at educational institutions. This document was written in consultation with a large number of parties from professional practice and scientific experts1, and was supported by the Netherlands Association of VET Colleges, the Dutch Secondary Education Council and the Ministry of Education, Culture and Science.
This non-binding framework supports the following objectives:
To support the efforts of careers professionals to improve the quality of career development and guidance for young people in school1.
To promote internal discussions at educational institutions: Do we all mean the same thing by career guidance? What are our expectations regarding the quality of careers professionals?
To achieve better coordination between the training offered by career education and guidance institutions and the demands and preferences of the target audience.
To support the HR policy of educational institutions and the professional development of careers professionals.
The term 'young people' covers students in secondary education, students in upper secondary vocational education and students in higher professional education. It may also refer to clients, customers or applicants in the context of getting young people into work2.
Organisations were consulted: Netherlands Association of School Guidance Practitioners, Association of Career Guidance Practitioners in Secondary Education, Netherlands Association of Career Guidance Profes-sionals, Professional Association of VET Practitioners, Social Security Agency, Dutch National Union of Students, the Onder- wijscoöperatie cooperative (a professional development organisation for teachers), National Information and Expertise Centre for Transitioning to Higher Professional Education, Association of Secondary School Students, Christian Trade Union for Young People, Association of Students in Higher Education, Association of Students in Senior Secondary Vocational Education, Convention of Directors of Teacher Training Institutions, the Master's programme Educational Needs, the Saxion programmes HRM and Applied Psychology, the National Convention of Applied Psychology Programmes, the Fontys teacher training programme and the Fontys/National Convention of HRM Programmes. The following scientists were consulted: Prof. Marinka Kuijpers (Open University),
Not all definitions have been elaborated in full. This is to promote internal discussions at educational institutions about their philosophy regarding what those terms mean
Intended target audience of this framework
In the first instance, this framework is intended for secondary education and upper secondary vocational education. However, it may also be used in higher professional education, provided the terminology is adjusted in a few places. This document has been developed for the following three target groups:
Supervisors of young people during the primary education process (teachers/tutors/coaches);
Specialist guidance counsellors (career education and guidance counsellors/careers advisers/career teachers);
Career education and guidance coordinators and policymakers (career teachers/career education and guidance counsellors/managers).
How and why this framework came into being
In 2015, a needs analysis3 was carried out to assess the need for additional tools for career guidance, followed by a field consultation to coordinate the outcomes of the analysis with the main stakeholders. This revealed that it would be meaningful to conduct further research into whether a career guidance framework would be of use to young people, and if so, how. This document is based on a number of publications from the scientific and professional fields (see References, Sources, page 28). These publications served as input for the specific role and expertise descriptions for guidance counsellors. When writing these descriptions, we made a distinction between three separate guidance roles, acting on the advice of experts from professional practice.
We used the focus areas from the career education and guidance scan for secondary education and upper secondary vocational education to add structure to the roles and the expertise described in the tables. A draft version of this framework was submitted to various stakeholders and experts (see References, Field consultation, page 30) for an extensive field consultation in November 2016. Further drafts were submitted to a variety of interested parties and experts in February, March and April 2017 through sounding board sessions, interviews and a questionnaire. The input thus obtained has been used to arrive at the present final version of the framework.
How the framework will be followed up
This document forms the basis for a more concise version, including a guide, intended for various users in the educational sector. The cross-sector career education and guidance expertise centre will coordinate the development of a version for the public with the Netherlands Association of School Guidance Practitioners, the Association of Career Guidance Practitioners in Secondary Education, Euroguidance and the educational institutions themselves.
Euroguidance Netherlands
This Framework career guidance for young people has been developed by Euroguidance Netherlands. Euroguidance Netherlands is the EU's Dutch centre of expertise for career guidance with regard to lifelong learning. Its objective is to gather and increase knowledge and expertise across both the Netherlands and Europe through knowledge sharing, tool development and research into better career guidance for all people of all ages, including target groups with special needs. In addition to improving the quality of career guidance through the professional development of guidance counsel- lors, Euroguidance promotes increased mobility and cooperation in terms of career development across both the Netherlands and Europe. The focal point of this approach is linking these objectives to developments in the Netherlands, in addition to broadening and deepening Dutch perspectives by learning from other European countries. More information, visit www.euroguidance.nl.
---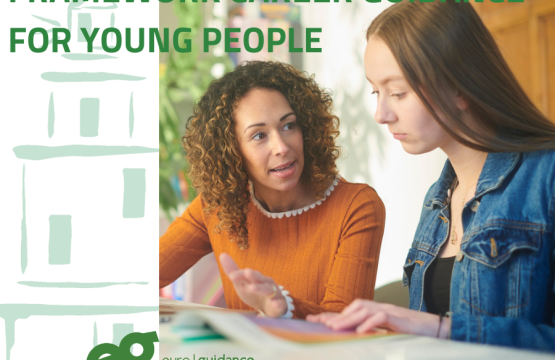 Author / Originator:

Euroguidance Netherlands

Country of origin Netherlands
Resource launch date February 23, 2023
Main focus Career Development, Coordination and Cooperation
Modality Remote
Context Schools, Higher Education, Adult education, Youth Work
Type Framework
Target group Career Guidance Practitioners, Policy-Makers
This practice developed through Erasmus+ Yes
Website https://raamwerklob.nl/en/