Practical manual for job seekers with disabilities
Within their programme "Providing support with heart" ("Výpomoc so srdcom"), Profesia aim to increase employability of people with disabilities. To support this, in 2021 practical manual for job seekers with disabilities was developed based on multiple qualitative interviews with jobseekers and HR personnel. The manual is unique because its recommendations take into consideration the perceptions and experiences of the HR personnel, as well as the usual misunderstandings and mistakes on the side of jobseekers. It includes descriptions of 5 steps that are important to consider in job search and getting a job. In addition, the promotion of manual was supported by creating series of videos focusing on job search and inspiring videos of people with disabilities who successfully found a job.
Development of the manual comprised of the following steps:
In 2019, Profesia conducted a study focusing on job seekers with disabilities. It was found that 25% of the study participants got employed via job portal profesia.sk. The aim is to employ 50% of jobseekers with disabilities by 2025.
The outcomes of qualitative interviews were tested on the jobseekers, hence they were applied to successfuly employ some of the jobseekers in the pilot programme.
Jobseekers received the information about the manual via newsletter in May 2021
On profesia.sk, there are approximately 1800 CVs of jobseekers with disabilities registered on monthly basis. The CVs comply with the GDPR and are provided to employers free of charge, thus employers may directly contact jobseekers with disabilities.
---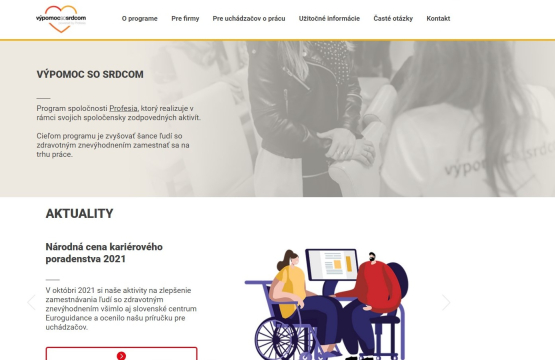 Author / Originator:

Profesia s.r.o.

Country of origin Slovakia
Resource launch date April 01, 2019
Main focus Access to Guidance Services
Modality Remote
Context
Type Publication
Target group Jobseekers, Disadvantaged groups
This practice developed through Erasmus+ No
Website https://www.sosrdcom.sk/