Luxembourg's Reference Framework for Educational and Vocational Guidance
The reference framework is considered as the national guideline for the implementation and development of guidance practices in Luxembourg's secondary schools.
Based on national standards, it defines the concepts of guidance, the targets to be achieved and profile descriptions and roles of the different stakeholders in the school community in the context of educational and vocational guidance. It also highlights the aspects that should be taken into consideration when developing a guidance process.
A guidance process should include:
- an overview of guidance activities carried out in the given school,
- the school community's involvement in the various guidance activities and
- the assessment of the activities and practices by the guidance unit of the school.
Every secondary school submits its guidance process to the Coordination Department of the Maison de l'orientation, which is mandated by law to establish an analysis of each guidance process, as well as, every five years, a national assessment of the progress made in the area of school and vocational guidance in secondary education.
The reference framework is a valuable, in itself evolving tool that is based on the needs of the practitioners and the diversity of Luxembourg's school population. Its main goal is to provide the best possible guidance to students, especially those who find themselves in moments of transition.
---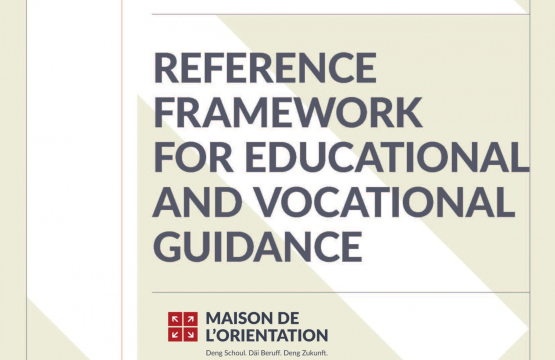 Author / Originator:

Service de coordination de la Maison de l'orientation (Coordination Service of the House of Guidance, Ministry of Education, Children and Youth)

Country of origin Luxembourg
Resource launch date December 01, 2022
Main focus Career Development, Access to Guidance Services, Quality Assurance, Coordination and Cooperation
Context Schools, Community
Type Tool, Publication, Framework
Target group Career Guidance Practitioners, Teachers, Policy-Makers
This practice developed through Erasmus+ No