New Plan –self-assessment tool for people in working life
New Plan is a free and open-access online self-exploration tool for people in the workforce. The tool is thus aimed at employees, people re-entering the workforce, as well as the unemployed and job seekers who want support in their career orientation.
The aim of New Plan is to help users with their professional orientation by means of suitable tests, self-assessment procedures and information offers. This assistance can be used independently or combined with the BA's offers for personal counseling and placement.
In order to be able to serve the diverse concerns of the heterogeneous target group, New Plan uses different professional components, which are distributed among the following three areas:
"Get inspired" area: This area offers a low-threshold introduction to the topic, under the motto: "What have others done with my job?" Users can quickly and easily obtain initial information about career opportunities without having to take a test.
Testing opportunities" area: Here, users can complete psychologically based tests and self-assessment procedures that give them information about their cognitive abilities, working attitudes, social skills and motives. The results are compiled into an individual skills profile and can be compared with the requirements of various career goals. From the results, further information on the various career goals can be accessed.
Search for further education" area: Users who already have clarity about their further development goal and would like to search for a specific further training offer can find suitable further training courses by entering a search term. Using various filters, it is possible to further narrow down the results according to personal wishes and needs.
---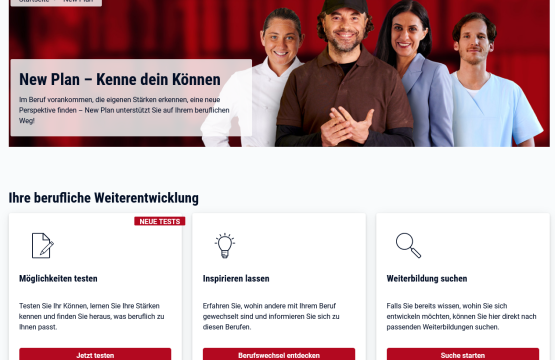 Author / Originator:

Federal Employment Agency Germany

Country of origin Germany
Main focus Career Development
Modality Remote
Context Employment (PES)
Type Tool, Intervention
Target group Jobseekers, Employees
This practice developed through Erasmus+ No