Bringing the benefits of career counselling/guidance to youth
Career counselling is one of the priority ways in solving the eternal dilemma of young people:
  "What should I do after finishing primary/secondary/higher education?"
With the completion of a certain degree of education, young people enter a new period of career transition. This a period when they need to make new decisions, probably much more serious than the previous ones related to education. And now in front of them is a new reality, a new dilemma, which young people often perceive as a problem that brings them into a stressful state. Students become persons who face the harsh reality and competitiveness of the labour market, even though they feel unprepared.
For us, as career counsellors, the task is always to help these young people in the transition period, to encourage them, and bring career counselling closer to them as a possible option for gaining self-confidence and security before entering the new reality.
Career counselling is a process that helps students/individuals identify and explore career opportunities, make informed decisions about their future, and develop strategies to achieve their career goals. It can be useful at any stage of life but is particularly useful for young people making career choices or just entering the job market. For that reason, the process of career counselling needs to be brought closer to young people as an option already in the period of primary and secondary education.
For the needs of the "All for You(th)" project, financed by the European Commission, and implemented by the Citizens' Association "Youth Can" in cooperation with the Association of Career Counsellors ASK - Skopje, in the period from March - April 2022, a survey was conducted for high school students from the entire territory of our country.
The research aimed to determine:
awareness of the benefits of career counselling,

the possibilities of obtaining career counselling services,

information about access to these services,

general career awareness and

the ways of making career decisions among the high school population.
The results of this research showed generally insufficiently developed career competencies among young people. This is mostly because they as students:
are not exposed to systematic and structured career counselling,

they do not have enough information about the possibilities and benefits of career counselling,

they do not know the real role of the career counsellor and the professional support they can 
receive from him during the career guidance phase.
 These conditions make students susceptible to unprincipled and low-quality influences from the environment when making important decisions about their career path. About 60% of young people have a fear of facing the reality outside of school and related to their future profession, job position, choice of college, etc. Only a small number of young people perceive this period as a challenge and are independently motivated to solve this problem.
According to the results of this research, the team of career counsellors involved in this project developed a program that is currently being implemented as a pilot program in several high schools in the state. The program covered:
training for teachers, who will build skills for career counselling/guidance and ways of 
implementation in their work in schools and
training for students, who will go through the entire process of career counselling/guidance by 
making informed decisions and developing an individual career plan.
 These activities will enable young people to face the question of "what comes next", while they are students, providing them with:
increased personal responsibility and self-control over future career choices,

self-awareness of their values, interests, abilities, and personal characteristics,

understanding the connection between investing in one's own education and career goals,

awareness of offers, work, and internship opportunities,

making informed decisions,

developing a plan/strategy for achieving career goals and

greater confidence in one's competencies for career development.
---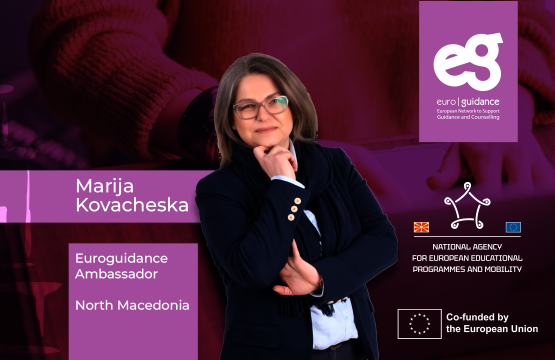 Author / Originator:

Marija Kovacheska - Euroguidance Ambassador - North Macedonia

Country of origin North Macedonia
Resource launch date November 09, 2022
Main focus Career Development
Modality Remote
Context Schools, Higher Education, Employment (PES), Youth Work
Type Research
Target group VET Students, University Students
This practice developed through Erasmus+ No